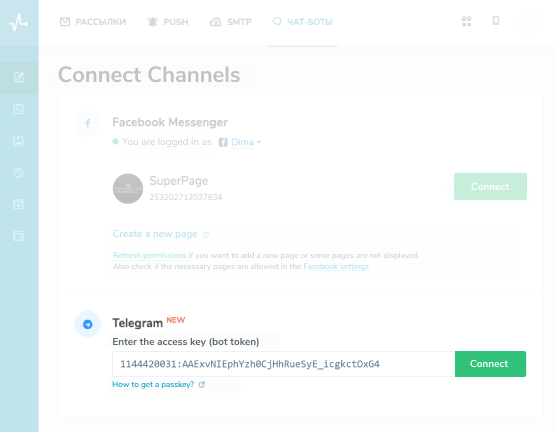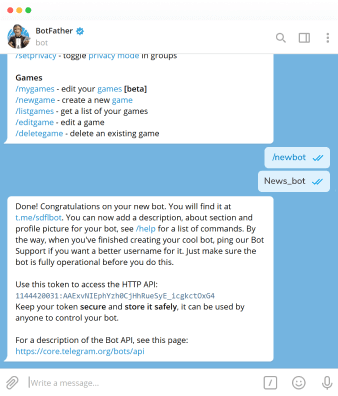 How to connect a Telegram chatbot
Create a new bot with @BotFather by sending the /newbot command. If you already have a bot, get its token with the /token command. Copy this token and add to your SendPulse account.
Learn more →
Now you are ready! Your Telegram bot is connected. It is time to set up auto-replies.
Visual chatbot message builder
Create Telegram bots to inform, advise, and sell your items and services. Before starting a conversation flow, enter keywords to trigger and send your auto-replies.
Learn more →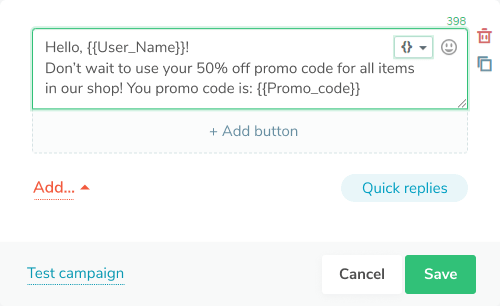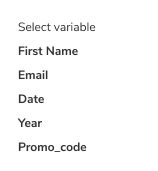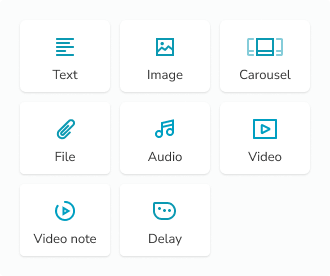 Send bulk messages to your Telegram subscribers
Add text, images, files, and buttons to your messages. When the campaign is ready, you can schedule to send it on a specific day and time. After sending, the system shows the number of sent and opened messages and redirects to your website.
Accept payments
Let your chatbot become an effective sales channel for your business. Integrate payment systems and add payment buttons to chatbot flows that allow taking your customer orders directly in the chat.
Learn more
Segmentation and managing of your audience
Launch a chatbot campaign to your entire list or only to select groups of subscribers. Our segmentation feature with tags and variables will help you to send the right message to the right audience.

Subscription widgets
Build a Telegram subscriber list on your site
Place a widget on your site to help visitors subscribe to your bot without leaving the page. If you have chatbots in multiple messengers, you can create a single subscription widget for all of them. This widget allows users to choose their preferred communication channel: Instagram, WhatsApp, Facebook, or Telegram.
Learn more →
Why do you need a Telegram bot?
Maximize audience engagement
Telegram is used by 200 million people who send approximately 12 billion messages every day.
High open rate
People read Telegram messages with a record open rate of 80
Privacy and data protection
Telegram is one of the most encrypted and secure messengers in the whole world.
Create a Telegram chatbot for free!
You can send up to 10,000 free messages per month to your subscribers with SendPulse
Sign Up