Automate conversations with your customers, from the first touch point to closing the sale
Start using WhatsApp for your business
Increase
user engagement
Subscribers are more likely to open triggered messages from your bot than bulk campaigns.
Convert leads
with ease
Convert leads into customers by sending valuable content in your automated flows.
Get customer
feedback
Build a better product or service by getting reviews from your customers.
Provide 24/7
support
Create live chats to provide support and speedy answers 24/7.
Features for creating and sending WhatsApp messages
Use tools that will help you set up and send high-quality WhatsApp campaigns

Subscription widgets
Add a widget to your website to stay connected with visitors via WhatsApp. To grow your contact list, you can send an email or SMS to your subscriber list and ask them to subscribe to WhatsApp messages.
Drag and drop editor for creating chatbots
Create triggers, set up auto-replies, and organize the conversation logic structure of your chatbot. You can build an effective sales pipeline with an auto-reply flow for your subscribers.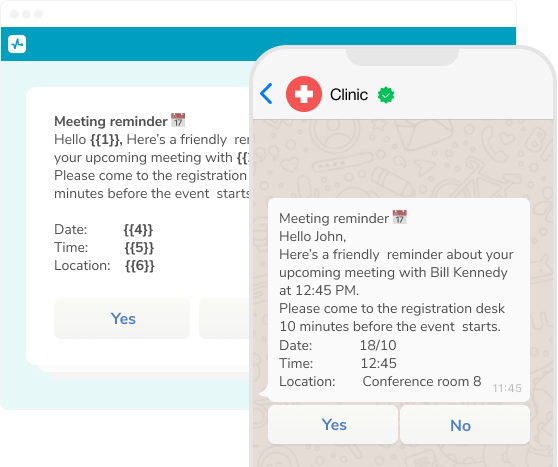 Write first on WhatsApp with templates
Use message templates to facilitate a conversation with users. SendPulse provides pre-designed message templates that are aligned with WhatsApp guidelines and suitable for any business. You can start sending messages immediately after connecting to the service.
Chats with subscribers
Invite colleagues to your SendPulse account to distribute communication with users among your team members and support several chats at once from different devices.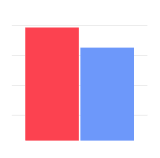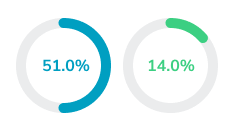 Analytics
Monitor the number of sent, delivered, and opened messages. This information will help you improve the results of your campaigns by changing the copy and schedule of your message send-outs to meet your audience's desires.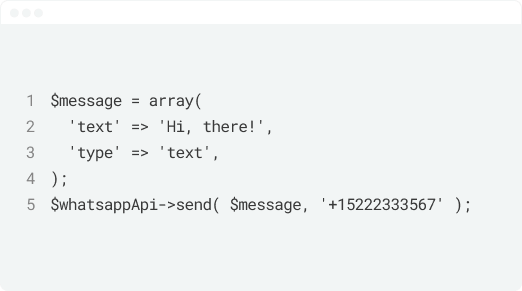 API
SendPulse provides an open API by which you can integrate a WhatsApp channel into your CRM, analytics system or other projects.
Official WhatsApp Business API is a reliable solution for companies with a strong client base aimed at growing their business
Companies can use three versions of WhatsApp to interact with their customers: WhatsApp Messenger, WhatsApp Business App, and WhatsApp Business API. Consider all pros and cons before getting started.
WhatsApp Messenger or WhatsApp Business App
Interact with your customers from a browser on your PC or use a mobile application
Supports one user on a single device

Both versions work on one device with one user. You can use WhatsApp Desktop on your computer or run WhatsApp App on Android or iOS devices.

No possibility for team collaboration

You can't assign or divide responsibilities for replying to chat between different team members. The app can only be activated on one device at a time.

No bulk messages

WhatsApp may block a sender of bulk messages. You can send the same message at once to up to 256 recipients or set up auto-replies to frequently asked questions.

No integrations

it is impossible to integrate WhatsApp with your CRM system or other projects.
Integration with WhatsApp Business API via SendPulse
Interact with your customers through SendPulse chatbots or set up an integration with your system
Multiple device support

SendPulse sends and receives messages to and from WhatsApp. All members of your team can get access to SendPulse to work with WhatsApp from different devices.

Work as a team

Divide responsibilities for working with chats between different team members. Invite new users to your account to work with WhatsApp chats.

Bulk and triggered messages

Use message templates to initiate a chat with users. There are no restrictions on sending the same message to multiple users simultaneously.

Various integrations

Integrate WhatsApp with tools your company uses as your CRM system, chat services, and other software.
Connect WhatsApp with SendPulse to collect subscribers, create chatbots, and send messages
Connect to WhatsApp
SendPulse — Official WhatsApp Business Solution Provider
Send WhatsApp messages with the SendPulse API
Use the WhatsApp Business API via SendPulse for seamless and effective messaging. Connecting through SendPulse will get you the following benefits:
Onboarding support
To use the WhatsApp Business API, you have to verify your business account. Be sure that we consult and help you while connecting to WhatsApp.
Official connection method
WhatsApp blocks users who connect using unauthorized methods. Connection via an official channel, like SendPulse, ensures you will be up and running without issue. You just need to get user consent to contact them and follow WhatsApp guidelines while creating your message content.
No setup fees
You only pay for the number of messages sent.
Omnichannel communication
Power up your communication strategy with WhatsApp messages. With SendPulse, you can also send messages to Instagram, Telegram, and Facebook and communicate with your customers through email, SMS campaigns, and web push notifications.
Affordable pricing plans for WhatsApp messages

User-initiated sessions

Conversations are initiated in response to a user message. Your first message started a session is paid, and its price depends on your recipient's country. All the subsequent messages will not be charged until the end of the session.

Business-initiated sessions

Business conversations you start require a message template. Their price is higher than user-initiated sessions and depends on your recipient country. 

Free tier sessions

The first 1,000 sessions per month are free for your business, both business-initiated and user-initiated.
Learn more about WhatsApp pricing.
Go to prices
SendPulse — Official WhatsApp Business Solution Provider
Connect to WhatsApp and be there for your customers
Connect to WhatsApp