A user input element will help you gather and store data from your subscribers to further segment them and target the right audience with personalized messages.
To collect data that users enter use the text field input element in the message builder. The data your subscribers enter will be saved as variables.
Click on the "message" element and activate the "Wait for the subscriber's response" function.
Inside the user input element, you will see the "Validate as" section. Choose the type of variable to validate: "string", "number", "date", "email", "phone", or "URL".
If the user enters an invalid value, i.e. a value that does not match the validation condition, the user will receive the corresponding warning message:
"string" - "Please enter at least one character";
"number" - "Please enter a number"; "date" - "Please enter a date in MM/DD/YYYY format";
"email" - "Please enter a valid email address";
"phone" - "Please enter your phone number in the international format"
"URL" - "Please enter a valid URL that starts with http:// or https://"
Additionally, you can change the warning message's text, add variables, and emoji.
User data you receive can be saved to an existing variable or you can create a new variable, to store information from each user.
Also, you can create quick reply buttons - so users can choose one of them and won't need to type their own response.
You can also choose the period to wait for a response from the user. If the user does not respond within the selected time, the wait for a response from the user will expire and the chatbot will no longer check the entered data for validity to record user's response.
Click "Apply" and continue adding elements to your flow. You can divide your scenario and send the next message, depending on whether the user entered the requested data (green dot branch) or not (red dot branch).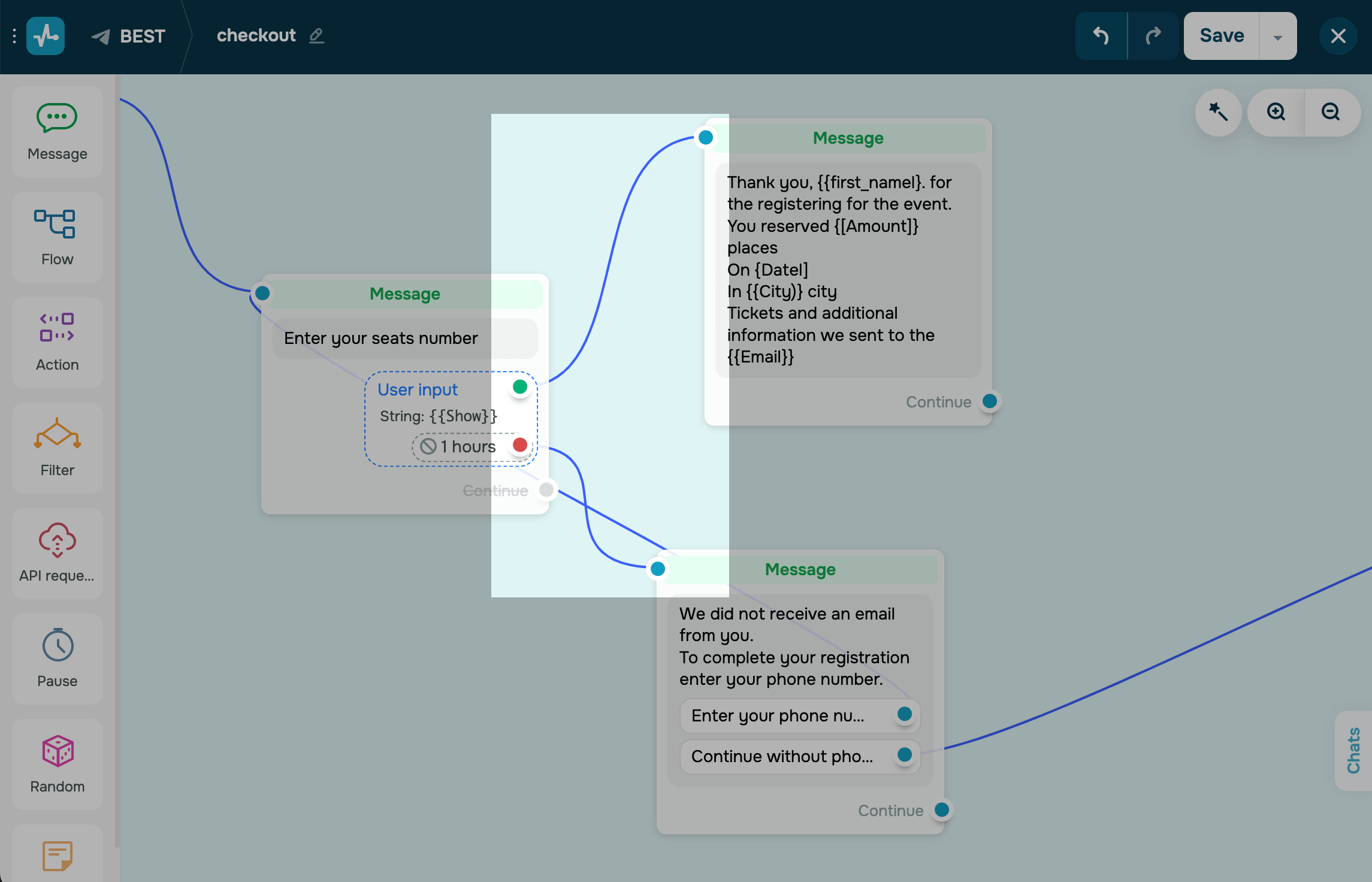 Subscribers will see a down arrow emoji following a message that includes the user input element.
You can view the data that you collect in the "audience" tab, use this data to create personalized and segmented campaigns.
Last Updated: 11.06.2021