Gain more customers, and earn their trust by proving your expertise
With SendPulse, you can get certified as an expert in both email marketing and chatbots.
We actively recommend reliable partners if our clients need a bulk campaign or a turnkey strategy
Get certified as an email marketing and chatbot expert in two simple steps
1. Apply by filling out the form on this page

Indicate the field you specialize in

2. Prove your knowledge of SendPulse's functionality

Make sure the account you are using meets the requirements below
What you need to receive an email marketing certification:
Segmented bulk campaigns and campaigns with A/B testing
Saved templates
Functioning subscription forms
Active automated bulk campaigns made using filters and conditions
Authentication
What you need to receive a chatbot certification:
A functioning chatbot made using segmentation
A functioning widget
Word and time triggers
A functioning user input element in a chatbot
Bulk chatbot campaigns
SendPulse certificate samples
After confirming your email marketing and chatbot expertise, you will receive a SendPulse certificate.
Official partner certificate
An example of a SendPulse certificate for a partner.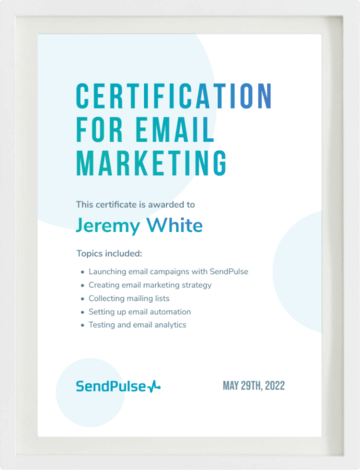 Email marketing
An example of a SendPulse certificate for email marketers.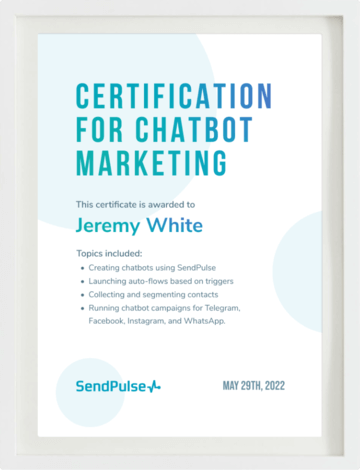 Chatbots
An example of a SendPulse certificate for chatbot experts.
Badge value
The SendPulse partner badge will show your potential customers that your company has qualified SendPulse professionals and make you stand out from the competition.
Fill out the form to find out more details
Don't have enough experience with SendPulse?
Take online course at the SendPulse Academy! The course below will help you get certified.
Email Marketing Course
You will learn how to create templates, work with contact segments, create subscription forms, and launch triggered campaigns.
Take the course