Black Friday is the largest sales day in the US that falls on the day after Thanksgiving and denotes the beginning of the shopping season in the country. The sales day starts early with retailers rolling out their shopping deals, coupons, bonuses, gift cards, large discounts both online and offline to let customers save money and earn great revenue.
In this article, we'll unveil how Black Friday got its name, review a brief history, and find out why it's important for retailers. Then, we'll explore great tips and examples of successful Black Friday campaigns.
Huge discounts on furniture, clothes, home decor, services of online platforms, great offers that last for one day, and appear a day after a great US holiday — Thanksgiving. Companies delight their customers with bonuses, gifts, discounts, and special offers which won't leave indifferent even those who are used to saving.
How did Black Friday get its name?
Some believe that the term denoted retailers who earned great profits that day. This is since a long time ago there was a bookkeeping practice of writing down profits with black ink and red ink. People marked profits with black ink while their losses — with red. On the day before Thanksgiving, merchants strived to sell as much as possible to earn enough money for life for the whole year. However, many people have more trust in another origin of Black Friday.
The other story of "Black Friday" comes from the 1960s when a lot of suburban tourists arrived in the city for shopping. This process resulted in chaos and brought a lot of work to police officers in Philadelphia. They worked long and had to deal with accidents, shoplifting, and busy roads. Policemen used the phrase to describe the situation that happened at that time. The same happened in a few years when people came from suburbs for Army-Navy football games.
It's worth mentioning that the term had taken root in Philadelphia. It was later used by store workers who had to deal with chaos and long lines in their stores after the great American national holiday. In the 1990s, the phrase "Black Friday" was spread nationwide. It was in newspapers, magazines, and TV campaigns.
Now it's time to delve into the exciting history of this world-famous shopping day.
A Brief History of Black Friday
In 1951, the term was used in the journal to refer to the workers having a sick leave to make their weekends longer. The next usage of the phrase dates back to 1960s Philadelphia. By "Black Friday" police meant busy traffic and many tourists from the suburbs on the day after Thanksgiving. Although the phrase was already used two times, it spread very slowly across the United States. Later, it appeared in The New York Times as the busiest shopping day and time when roads are overwhelmed with vehicles. The meaning "the busiest shopping day" has been used in the United States until now.
The phrase spread nationwide in the 1980s but with different interpretations. At that time, merchants decided to promote the idea that retailers had suffered losses for most of the year and could make a profit only starting from the day after Thanksgiving when the holiday season started.
Now that you are acquainted with the brief history of the phrase, it's time to explore its importance.
Why is Black Friday important for retailers?
The story speaks for itself: a huge number of people during the beginning of the shopping season and long queues led to significant profits for retailers. Every year online and offline stores prepare the best deals and biggest discounts for one of the busiest sales of the year. They open their stores early, prepare a lot of offers, organize different events to attract new consumers, and increase revenues.
Online shopping has become very popular nowadays and amounts to 21.3% of total retail sales as of 2020. That's why all businesses adapt and provide a variety of tempting offers online. Brands send email campaigns, run paid ads on social networks, implement chatbots, web push notifications, and send SMS. This way, they reach great exposure, establish brand awareness, increase customer base, sales, and gain huge profits.
With the most effective marketing tools and attractive offers, companies manage to reach customers, sell their excess inventory and obtain the biggest revenues during the whole year. People spending heavy sums of money improve both the condition of certain companies and the overall health of the retail industry.
It's time to jump into tips that will help retailers get the most out of this day.
4 Black Friday Tips for Retailers
Promote your sale in an email newsletter
Leverage advertising on social networks
Make use of SMS
Make your sale longer
To lure customers into their online and offline stores, retailers apply different methods: limited offers, great deals, huge discounts, gifts, bonuses, and more. If the busiest shopping day is near and you want to increase your sales and revenues, get ready for this year's Black Friday with our guidance.
Promote your sale in an email newsletter
Companies most often leverage email marketing — the most effective way to stay in touch with their target audiences. This fact is supported by the statistics that tell that 87% of marketers take the advantage of email newsletters to distribute their information. Since the number of email users amounts to 4 billion, there's a point in developing effective email campaigns for your customer base. Besides, it allows you to deliver targeted messages, reach customers and subscribers fast at a low cost.
Create a catchy subject line that lures subscribers to open the email. You should also be short and sweet in your copy and use words that encourage people to purchase like "limited offer", "shop now" and mention the amount of your discount.
Let's take Steve Madden's Black Friday, for example. The email has an interesting subject line, a clear and short copy, and contains products on sale.
SendPulse enables you to create professional email templates without any knowledge of code and technical skills. You have the opportunity to inform your customers about Black Friday for free. With our drag and drop editor, you can design your own template from scratch.
Leverage advertising on social networks
As you know, social media engagement helps drive website traffic and rocket your Black Friday sale. By using special hashtags, paid ads, and turning for help to influencers, you can increase your audience and ultimately profits. People will disseminate information by posting photos and videos, using your hashtags, and tagging your brand.
For example, Target uses Facebook advertising to entice customers with its offers.
Walmart informs about its deals on Instagram and lists all discounted items.
Make use of SMS
SMS might sound old-school if compared to modern distribution channels like WhatsApp, Telegram, Facebook Messenger, and social networks. Yet, it's still an effective local way to reach your customers and update them about your Black Friday deal. That's why you should consider using SMS campaigns in addition to your main marketing strategy.
SendPulse enables you to send your message to your customer base and schedule your SMS campaign on a certain date and time so you don't need to worry about being late to announce your big sale.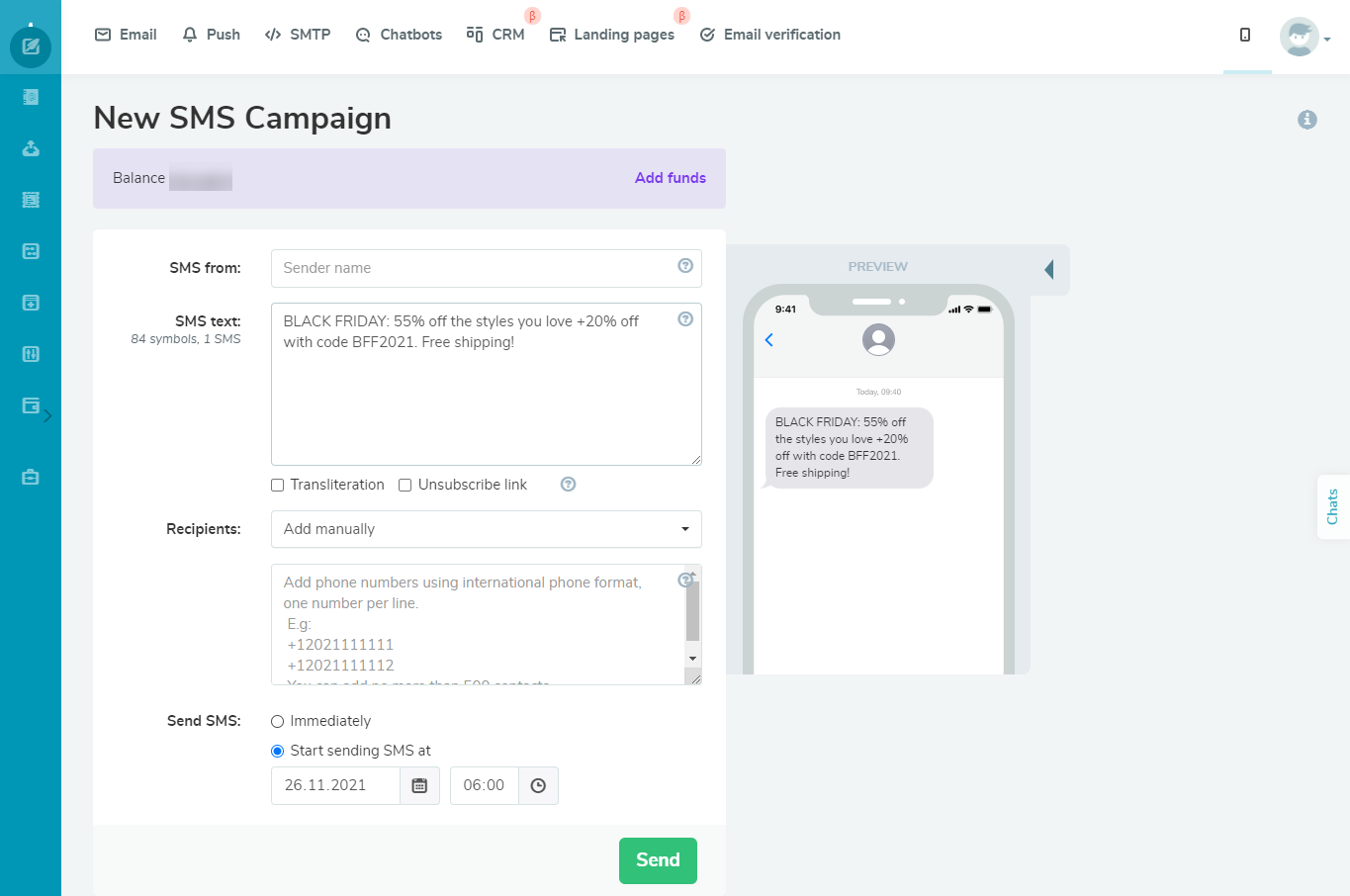 Make your sale longer
Since Black Friday is a wonderful time for customers to save money on products and retailers to earn significant revenues, give a chance to your customers to enjoy it longer. It's a great idea to extend the sale and allow consumers to shop products at attractive prices and get additional gifts.
Let's explore what Levi's did. The famous brand started a season of sales which lasted for a couple of weeks.

Put the ideas to work to gain excellent results and review the following examples to get inspired.
Examples of Effective Black Friday Campaigns
You can explore lots of inspiring Black Friday campaigns to have some insights and learn something new. Some brands leverage email marketing and some of them prefer social media platforms to be closer to young customers. Let's now see their different approaches.
Charlotte Tilbury
It's a brand where everyone can buy makeup, skincare, and beauty products. To reach the younger generation, the company announced Black Friday on social media platforms as well. The brand lures fans of cosmetics with a 50% off and 3 new mystery boxes.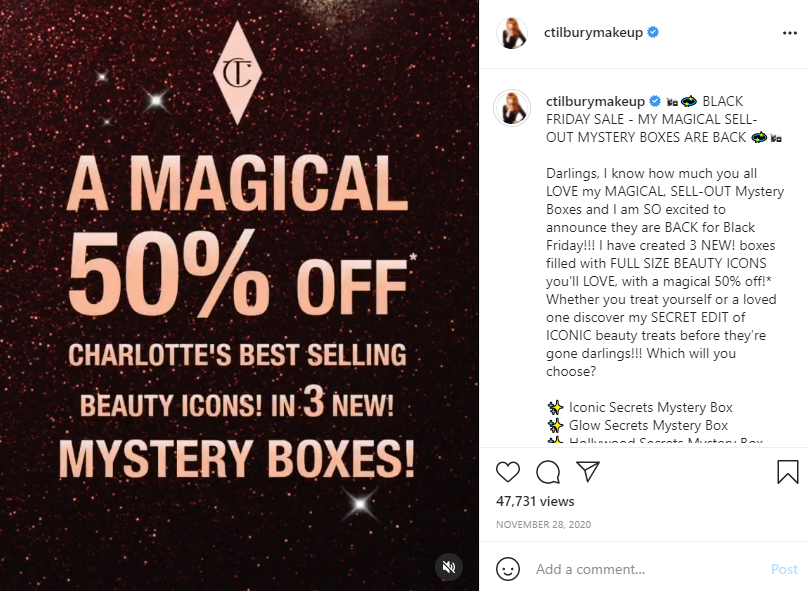 Bath and Body Works
The famous body care company uses email newsletters, publishes posts and videos on social media, and leverages pop marketing to entice customers to take part in its Friday Sale and enjoy its "buy 3 get 3 for free" deal of the year.
Grammarly
The well-known grammar checking service plays on the emotions of people and uses phrases that evoke the fear of missing out such as "one day only". With its attractive 55% off all premium plans and one-day sale, the company lures customers to hurry up to grab the offer.
Now you have excellent ideas so use your chance to implement them when planning Black Friday. Make use of SendPulse's marketing tools to simplify your work. Leverage email campaigns, chatbots, and web push to distribute your Black Friday messages.
Resources:
This article defines the term and narrates its history.
In this article, you'll find 10 tips to conduct great Black Friday sales.
In this article, you'll find Black Friday marketing ideas.
Last Updated: 23.07.2021