Product bundling is a marketing strategy that enables companies to group complementary products into a single unit and set a lower price than if they were sold individually. It allows brands to increase sales volume and average order value as well as save money on promotion.
This is a commonly used technique by eCommerce businesses, fast food restaurants, the hotel industry, etc. This way McDonald's sells Happy Meals; beauty stores — a package consisting of a shampoo, conditioner, and a hair mask; hotels — rooms with breakfast included. Such product bundles are useful for both customers and brands. Let's find the way they benefit.
Why do companies bundle products?
Nowadays, almost every brand offers its clients a package, combo, or mix based on the needs and preferences of the latter. Customers buy such sets because they help them save money and try new products at low risks since brands combine top-selling products with low-selling items. With this technique, they increase their average order value, sales, revenue, save money on promoting and distributing individual products, and enhance customer experience. Let's discover the benefits in more detail.
Advantages of Product Bundling
Average order value increase
Sales volume increase
Inventory waste decrease
Save money on promotion and distribution
Personalized customer experience
Let's discover the benefits a business can reap after creating a well-thought product bundling strategy.
Average order value increase. Say, you own a beauty store and your average order value is $15. Your top-selling product is a facial cleansing foam. To increase your order value, offer your customer to buy a skincare set consisting of your best-selling foam, a slow-moving toner, and cream for $35 only. Remember to choose products that complement each other and work effectively in combination.
Sales volume increase. Sales volume is the number of products sold during a particular period, for example, a quarter. This measure shows both your general business health and the performance of your marketing campaigns in particular. Discovering this metric will help you find out the most effective selling techniques and determine high-performing sales reps. Some of your products that don't sell can lack promotion which requires some budget, so combining such items in a bundle with the most-selling products will increase your sales volume significantly and enable clients to explore new products.
Inventory waste decrease. Each company has some dead stock in its warehouses. Such items stagnate on shelves hindering new arrivals. You can make room by bundling these items with the most selling products that will work perfectly together. The only thing you need is to combine them wisely.
Save money on promotion and distribution. Each product needs promotion. Promotion needs investments. If marketers promoted each item they produce, their revenue might not cover these costs since there are always some goods that sell worse than others. So, if you have 5 best-selling products, bundle them with your slowly-moving inventory and sell at a reduced price. Besides, you'll save money on packaging since you need only one box to send a set of products.
Personalized customer experience. You can increase customer retention and loyalty by providing them with unique and personalized offers. Check out the profiles of your regular customers in your CRM to explore their favorite products. Then, create a relevant product mix based on their needs. For example, your client always buys a skin whitening cleansing foam. So we can assume they have acne marks. You can offer them chemical peels and a moisturizer to cope effectively with this problem. Customers will appreciate your care.
Now that you know why companies bundle products and the benefits they reap, it's time to get familiar with the types of product bundling to choose the one that suits best your business.
8 Types of Product Bundling
Pure bundling
Mix and match bundling
Cross-sell bundling
New product bundling
Gift set bundling
BOGO bundling (Buy X Get Y)
Old inventory bundling
Occasional bundling
In this section, we'll shed light on 8 types of product bundling so that you can discover the opportunities.
Pure bundling. It implies a mix of products that can be bought only within a bundle and no item is sold separately. This type of bundling is often used by monopolies limiting their clients' choices. For example, cable TV providers offer packages with channels that cannot be sold individually; bus tour providers offer their clients tours including transfer, hotel accommodation, a guided walking tour, and headphones.
Mix and match bundling. This bundling technique enables marketers to choose several products available for packaging so that clients can choose the necessary items and create a custom bundle. This makes them feel as if they have full control of the transaction. For these packages, companies use perishables very often. For example, toiletries, six-pack fresh juice or beer, an option to choose a T-shirt when buying a pair of jeans at $X.
Cross-sell bundling. It means offering a product that complements the initial choice and very often this complementary product can't be used separately. For example, customers are always offered to buy a case or earphones together with a phone.
New product bundling. This type implies offering a recently launched item together with a high-selling product. This way, marketers give their new products a boost and promote them for free. The better product you choose as the main one, the more chances that your clients will buy this bundle.
Gift set bundling. As the name suggests, this type of bundling helps customers choose gifts for their friends. It works the following way: the more products are in a set, the better is the gift. This type of bundling is especially popular during holidays when people look for the best and functional products. For example, a hair straightener can be sold together with a heat protection hair spray and barrettes.
BOGO bundling (Buy X Get Y). "Buy one get one" is a killer bundling type widely used by eCommerce businesses. Companies use it to encourage customers to buy a full-priced product to get another one as a gift or with a big discount. Very often the initial product is either expensive or is a one-time use item, for example, a fridge, hairdryer, electric razor. This way, clients are informed that buying this item or spending the N-sum of money will let them choose a gift or receive a high discount.
Old inventory bundling. Dead stock prevents businesses from investing money into producing new products that makes a company stagnate. With an old inventory bundling, you can clear your inventory space, sell excess and old items, increasing your revenue. To implement it, promote a slow-moving product with one of your bestsellers at a reduced price. This will make your offer look attractive for clients.
Occasional bundling. This type of product bundling works perfectly during holidays, special occasions, seasonal needs, etc. For example, flower stores can create a package dedicated to St. Valentine's day and sell different sets of flowers with candies, chocolates, and a greeting card. Beauty stores can create special travel kits in high season. They can contain small versions of cleansing facial foam, toner, and cream with SPF 50+. This bundling type allows companies to boost their revenue during holidays and special occasions.
Now that you're familiar with the most popular bundling types, we'll share several important tips for you to remember and make the most out of this strategy.
5 Product Bundling Tips
Create data-driven bundles
Provide different packages
Inform clients about savings
Create time-limited bundles
Promote your bundles across different channels
To create product bundles that sell, follow the best practices below.
Create data-driven bundles. For this strategy to work effectively, make use of personal customer data and their purchasing history. This information will help you create personalized and unique bundles relevant to each client. Check this data in your CRM system. You'll find out what your customers buy frequently, items they left in their shopping cart, their needs and preferences. So, you can create unique bundles that they do need.
Provide different packages. Provide your customers with choice because having options makes them feel more satisfied. The more diverse your bundles are, the more chances that clients will find something to their liking. Limited packages often scare away customers since they make them think that the only goal of this set is to sell slowly-moving products.
Inform clients about savings. Customers feel satisfied if they manage to save some money. Since the core of product bundling is saving money, let clients know exactly how much money they will save if they buy this or that bundle. You can show this information in the checkout, in product recommendation, on the product page, or notify them via an email campaign.
Create time-limited bundles. The sense of urgency drives impulse purchases. Create a special category on your site dedicated to the juiciest offers, for example, "5 top trending bundles of the week". Don't forget to give a high discount for such bargains.
Promote your bundles across different channels. This strategy won't bring much revenue if your audience knows nothing about your offers. So, find out the most effective channels for communication with your customers and inform them about valuable bundles. You can do this for free with the help of the SendPulse email service.
With all this information at hand, the only thing you need to start is to get inspired with some examples. We've collected several of them below. Take a look.
Examples of Product Bundling
In this section, you'll see how famous brands implement product bundling into their marketing strategy.
A famous company IHerb, selling dietary supplements, beauty, and healthy products uses bundling on each product page. The package depends on a customers' previous purchases. The brand offers to save $3 if a user buys an item they have purchased before with the one they're viewing at the moment.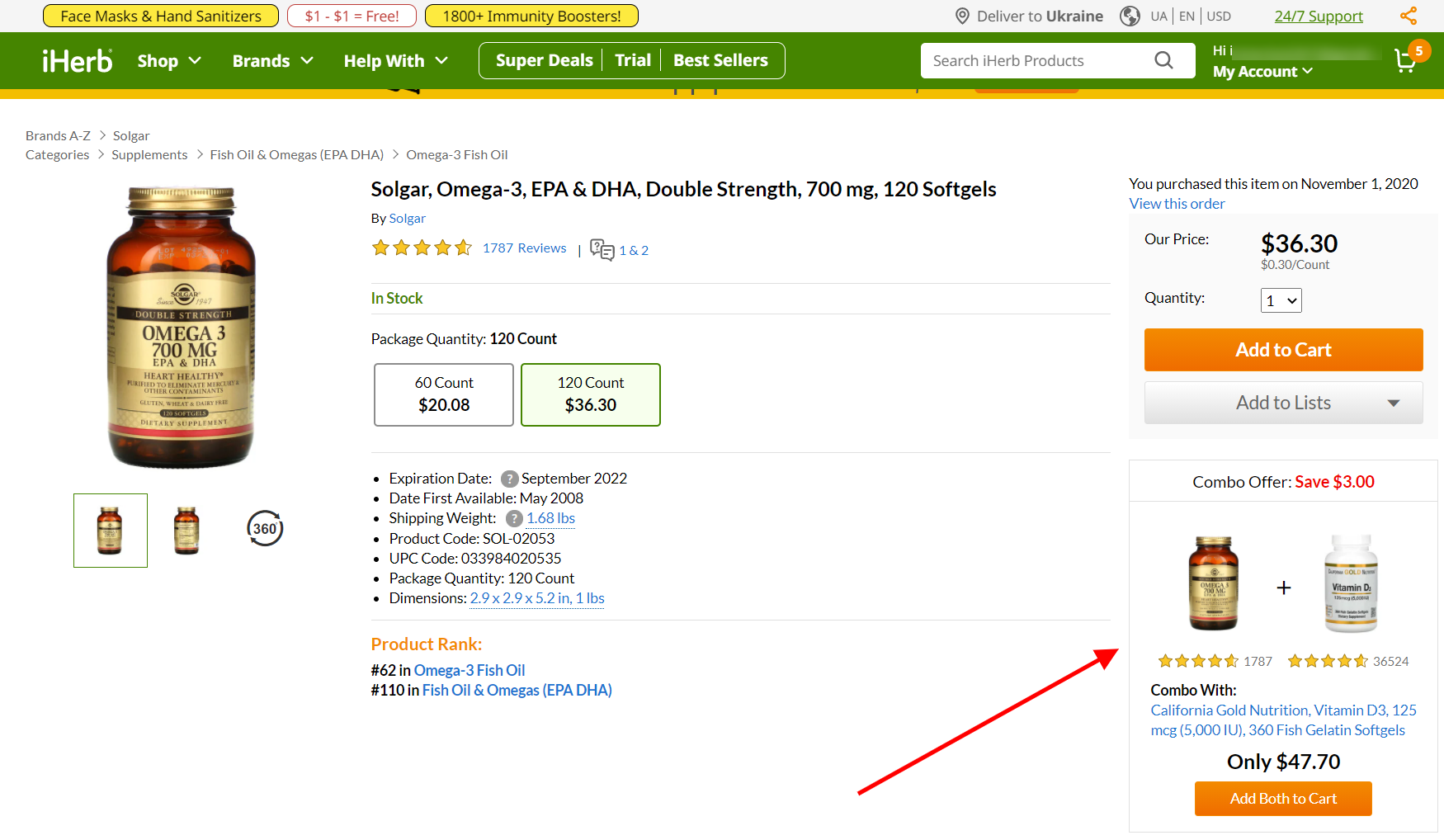 Kylie Cosmetics has a separate category on their site to showcase all their bundles. What is good is that a brand emphasized saving. A wide choice of packages available allows customers to find the one they really need.
3 Wise Men is an online store selling high-quality men's clothes. The brand offers 4 different packages to suit every taste and budget.
After a user chooses the first bundle for $300, they see the collection of trousers, shirts, and knitwear to choose from. In addition, the brand shows how much money customers will save if they buy 3 pieces of clothes together.
Congrats, now you know the benefits product bundling can bring to your business, its types, have some useful tips and examples at hand. Make use of SendPulse promotional tools to inform your audience about your best deals.
References
This article provides a quick guide to product bundling.
This article explains how to make product bundles work and why they may not work.
This article shares some product bundling strategies.
Last Updated: 08.07.2021